Tree/hedge cutting notices
I have received a hedge/tree cutting notice. How much do I need to cut?
All vegetation should be a minimum of 50cm from the edge of the pavement or road.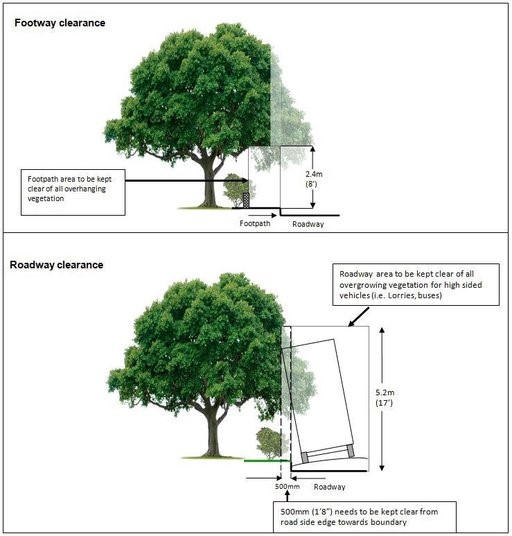 A diagram showing vegetation clearances
I received a hedge/tree cutting notice and am unable to cut it myself. What should I do?
We recommend using a skilled contractor to carry out work. You can visit the Buy With Confidence website to find an approved tree surgeon.
I received a hedge/tree cutting notice and it does not belong to me. What do I do?
Sometimes it can be difficult for us to identify the owner. If the vegetation does not belong to you, please let us know.
Should I cut a hedge if there are birds nesting in it?
Bird-nesting season runs from the beginning of March until the end of August. If the hedge is putting people at risk, we may still request that you cut it back, taking care not to disturb the nest.
If you know your hedge grows out over a pavement or road, please try to cut it back before the bird nesting season.