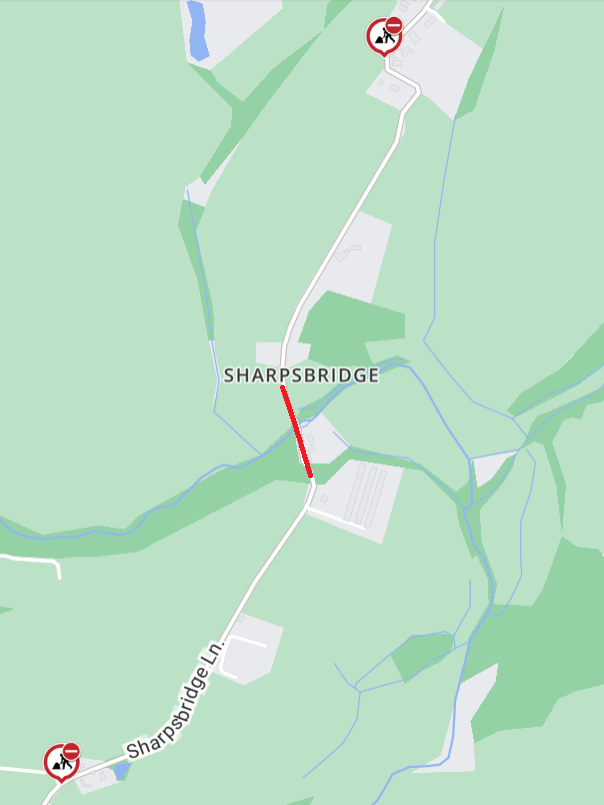 A map of the closure extent on Sharpsbridge Lane, Piltdown
What works are taking place?
Balfour Beatty is working in partnership with East Sussex County Council to manage the highways service across East Sussex. As part of this, we are carrying out bridge repairs on Sharpsbridge Lane, Piltdown.
During our most recent inspection of the bridge in this lcoation, it was noted that the condition of the parapet fences protecting the edge of the bridge had detoriated considerably and could have caused a potential safety issue in the future. Therefore, we have had to schedule urgent works to carry out repairs to the fences to ensure the bridge is safe for users. These works include replacing the rotting timber parapet fences protecting the edges of the bridge which carries Sharpsbridge Lane over the River Ouse, and are due to be complete by Friday 16 June.
We would like to take this opportunity to apologise for the delay providing this update, however due to the urgent nature of the work it was vital that repairs were carried out as soon as possible to ensure both vehicles and pedestrians can use the bridge safely and that we can reopen the road as soon as possible.
How will this impact highway users?
Sharpsbridge Lane will be closed to through traffic 24 hours a day during these works, with a signed diversion route in place.
Traffic will be diverted via Sharpsbridge Lane, Mackerel's Rocks, Narrow Road, Church Road, A272 Goldbridge Road, Shortbridge Road, Sharpsbridge Lane and vise versa.
Pedestrians will be able to pass over the bridge during the works. Access to properties up to the bridge from either approach will be maintained.
Information for residents and businesses
Weather: All of these works are subject to favourable weather conditions, for example heavy rain may affect the progress of the works.
Properties close to the works area may experience a temporary disturbance as this can be a noisy process and those properties may experience flashing lights and hear reversing sirens. We would like to take this opportunity to apologise for any inconvenience or disruption this work may cause.
Please let us know how we did by leaving feedback. Please note you will be redirected to the East Sussex County Council consultation website.