Balfour Beatty is working in partnership with East Sussex County Council to manage the highways service across East Sussex. As part of this, we will be carrying out signage works around Langney Roundabout, Eastbourne.
These works will include removing the current signage and updating with new signs.
When do they start?
Work will take place between Monday 18 September and Friday 13 October between 8am and 4pm.
On Monday 18 September and Tuesday 19 September, temporary traffic lights will be installed on Langney Rise, near the junction with Sevonoaks Road.
From 20 September to 22 September a lane closure will be installed in the right hand lane, next to the traffic island, where St Anthonys Avenue joins the roundabout.
From 25 September to 29 September a lane closure will be installed between Kingsmere Way and Langney Roundabout.
From 2 October to 13 October we will be working on the verge and there will be no intrusion on the carriageway.
Please see map below for exact locations. The team on site will be able to provide the most up to date information on progress.

Information for residents and businesses
Parking: We will put out 'no parking' signs and cones on the site, in phased sections to advise where parking is restricted. Please avoid parking in these locations as it will delay our works.
Weather: These works are subject to favorable weather conditions, for example heavy rain may affect the progress of the works.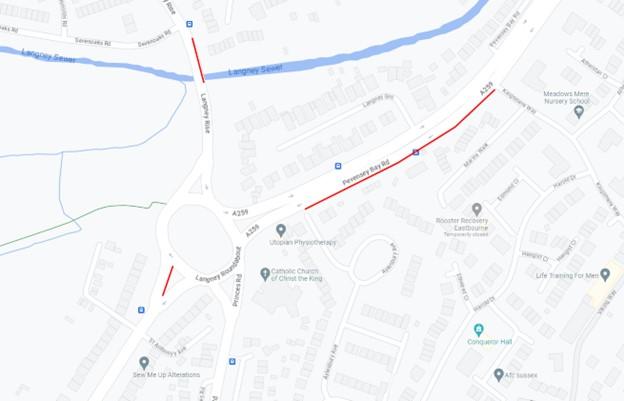 Please let us know how we did by leaving feedback. Please note you will be redirected to the East Sussex County Council consultation website.